31st July today is my mother's birthday, so before forgetting I conglaturate her birthday from Stockholm, Sweden.
Happy birthday!
This song when I was a little girl, from stereo in the living room, I remember that both father and mother listened to this record for certain stage repeatedly. So I naturally memorized this song entirely I mean melody, not italian poem. .I still remember your conversation with father " What a nice song this is ! " Probably I was only 4 or 5 years old . I do not remember exact time.I am sure my sister did not existe in this world yet.
7月31日は母の誕生日。忘れないうちにスウェーデンストックホルムから、おめでとう。コンピューター音痴の母は、このブログを読むことはないので、神様がこの気持ちを伝えてくれることを願って。スカイプで電話。嬉しそうな声。母の祖母が生きた昔の時代にしては長生きをしたという祖母が亡くなった年まで生きられたことに感謝という。夏の暑い日に末っ子として当時としては高齢の母の元に生まれた母。日本のお産婆さんがとりあげた時代。昭和の時代を生きてきた母の時代。思えば100年は、4世代が誕生することとなる。20代の中盤に子供を生むとしたら。いや、今の時代は30から40にかけて、そのうち100年は2世代か3世代となる時代に。高齢化、世代交代の遅延化。長生きがもたらすもの。元気で長生きをしている人たちを見ると、案外マイペースなひとが多い。わたしが、日本のテレビでみて、驚いた番組。100数才の元気なおばあさんに、質問。長生きの秘訣はなんですか?
"はは。実はこれなんです。わたしは、ごはんに日本酒をかけていただくのが最近の楽しみです。"100歳以上長生きすると、すべてが秘訣に聞こえる。別な現役のおばさまがいう。100歳以上まだ髪の毛が黒い毛が生えてくるという。"これは、秘密ですが、毎朝、黒ゴマペーストをトーストにたっぷりと塗っていただいています。ええ、上も下も(たぶん毛のおはなしと推測)100歳過ぎても生えてきたのですよ。"はああ。黒ゴマは、ストックホルムで、なくてはならないふりかけ。最近は白ゴマ黒ゴマをまぜていただく。いつも疑問に思うが、金髪の人たちの髪の毛は、黒ゴマを食べて黒々となるのだろうか。中国医学では、黒ゴマは補腎という。腎は、日本的にいうと腎臓というよりも、生きる活力、エネルギー、を補うことというニュアンス。老化は腎の低下。ボケは、胡桃をいただきなさいという。では、更年期で悩みたくない人は予防で40過ぎたら、多めにとりたいものとして。豆乳とざくろという。中国皇帝が長生きをしたいがために、薬膳も発達したという。
父と2人三脚で助け合いながら生きる両親。お誕生日本当におめでとう。そばにいてあげれずにごめんね。と独り言。
Italian passionate amore is due to sun lights?
This is the birthday song for mother.
Beniamino Gigli - Torna a Surriento 1933
This song..when I was a little girl, my parents bought this old song record and often listened to this.
Latter part of July, I spent my holiday in Stockholm and mellosa(Flen ). Since my family members visited Stockholm from Japan and Germany. It was interesting to know what they were interested in Sweden as tourists during short staying. German guide book and Japanese guide books were side by side. Of course they seemed to enjoy in their way.Skansen, cyckling, Gamla stan, Boat trip, last minutes little shopping so on. Swimming in the lake , Summer house feeling. picking up berries are most exciting moment in life for foreigners.
"Wow! here has blue berry!" Eyes worked so efficiently, our eyes are better than dogs' but their nose are better than ours. Anyway we did not use our nose to find berries, mostly sharp eyesites. Fingers are getting colored so called berry color. Ink like blue. Mashroom and berry are most important forest products in nordic peoples. So since they arrived, they have eaten berry , blue berry, rasberry.
Swedish meat ball making. In fact German family member cared for the famous swedish dish"Jansson's seduction in another word tempetation." Jansson is very swedish. In fact Ericson's temptation can be all right. Somebody's son is the original meaning of family name. Eric's son turns to be Ericson. Anders's son can be Andersson. So simple and nice.It sounds like some old Japanese emperor's mother did not have name since real empress could not give a birth, instead 3rd person had to give a birth of Emperor in oldern time. IN that case, mother's name was just named as "Emperor 's mother." According to old map of Japanese royal family..I have seen this map at an antique book store in Tokyo.
Potate gratine with anchovi. I strongly recommended to eat sur stromming after my positive recomendation, even I almost bought swallen tin at ICA, everybody refused my proposal "lEt's buy this famous surstromming and open in the water (this also I had to explain it why ...)I almost bought the tine, but my niece said" Yamete! NO!, NEJ!" So they did not experience real swedish gourmet, Jansson's temtation, I did not cook this famous swedish dish for german peopels "Jansson's temptation ", so she just was satisfied our "let's make swedish meetball together " Under Japanese woman's translated Swedish meatball.
The result was "Wow! So delicious!" Of course I only used my mouse to talk, then all the work was done by those 3 ladies.German and Japanese made Swedish meatball. I insisted ligonjam. German niece resisted until last. She said she disliked to eat meatball with jam. So should I make German style apple sauce for swedish meatball. Hundred times I explained "Swedish meatball need eat with lingon jam with cooked potate, otherwise different." Ready made meatball normally tastes so salty to me. So I prefer making own meatball.Small size. I served two sauce for that. One is gradde sauce(cream sauce), another is brown sauce.
They stayed at my apartment and I was the resposible to make them not to be hungry. During those time we visited Swedish summer house that is my swedish friends'.(thanks to them!) We were given the key and spacious rooms were enough for 6 of us.In fact outside of summer house, in the field, besides of road, we saw many snails, then I started asking them "Well , tonight shall we eat escargo francaise?" they said NO. I saw smails two eyes coming out first in my life. Swedish snail's meat is fat and looked delicious. When I went to French bistro, normally I love to order escargo with garlic butter...French bread is soaked onto this melted galic butter. but after looking at those cute snails, I felt so bad about my loving to eat escargo...so many many snails outside in the garden were safely survived. No one caught them for diner. Until now I do not know escargo in France and snails in Sweden are same or not?
I just made joking to them ."Well, if we have nothing to eat, if only we have butter and galic, what we should do ? Just like french peoples, we catch snails?"
Well Zen monk will purnish such a theory. All natural living ones have own souls, we should respect them." When we start thinking this respecting living ones. most peoples have to be perfect vegetalian. I love vegetables but eat meat and fish.
My new finding in Sweden this time, one of my family member love to do riding bicycle, so naturally I had to follow their enjoyment of cyckling in Stockholm. I opened my eyes how beautiful Stockholm look like especially during summer. City and town looked so different from our only using trains, subways or cars. Rental bicycle system works quite well and well organized.
In the country side (Flen commune) I did enjoy walking to the lake, forest, picking up pretty summer flowers in the field (in fact everywhere), berries (blue berries, rasberry, wild berry..sweet and so wonderful odour!)In my last many years staying in Sweden, I have never experienced real swedish summer since in July and August I normally travel to the south pacific and last year I was in Africa.
The result, family was happy and German family member washed plates and cleaned dishes so well.(We Japanese family member learn the method of German way how to wash dishes and clean and wipe.) 13 years old my niece handle Both German and Japanese. So during their staying, on the table, German, Japanese and English are common language. Unfortunately I have never studied German.
Summer in Sweden is not too hot but comfortable. After cold winter, spring came and at last summer came , then now peoples want to enjoy every munites of charm in Scandinavian summer. Eat berry as much as you can, enjoy forest, wild summer flowers.
So what color is swedish wild flowers? I say white, yellow and violet color. Light violet color is very common in country side right now.If you see window display in town, if they use yellow and light violet color, that means the owner must have been the country side in Sweden where their summer house existe. From window they can see wild flowers everywhere, some are yellow and some are pinkviolet color.So beautiful. Summer season peopels love to wear light violet color, it makes sense since that color is from the nature field. Inspiraion. lirac color.
But if you are interested in watching Dalia, just ride on the bus 47 till the last destination near Djulgarden. GO to the cafe surrounded by beautiful Dalia flowers right now. There you can find one of best buget french bread, too! Bon apetite! Coffee there are exellent, too. Garden cafe is opened. Under apple trees, drinking coffee sounds so beautiful in Summer.
I remember 31st July in Japan was always hot, hot and hot. Here in Stockholm, very nice comfortable summer(this is Equality ..winter is so dark and cold, that is why God gives this nice comfortable summer in Sweden.)
King of love by Sade. The other day we passed by one English pub near Skanstull station, Stockholm, then just poped in, and had a glass of beer. I was very very thirsty. Inside had interesting decoration..colorful stendglass like ceiling. A bit expensive beer seems not to keep so much drunken peoples , instead well mannered peoples read book quietly outside open chairs, chattered with their partner, some sat outside looking at walking peoples..Good things in Sweden, smoking peopels smoke outside of building and not inside of restaurant or bar.So our dress never smell cigarette.
Suddenly Sade music was heard. Yes. This song cause a kind of nostalgy to me always. Where? TO me, Sade is the music to make us feel nostalgic feeling in Indonesian night -lightened up mosque in Sumatra Medan. Mosque at night looked so beautiful especially when I drove a car alone listening to Sade.
Indonesian city night. Tropical asian night ,City has another feeling. Hot , steamy, icy cold airconditioned, the sounds of car or bike on the street. Peoples' laughing, noisy sounds from the street and shops.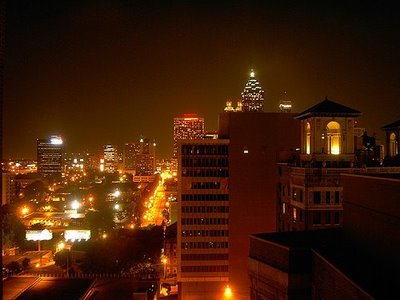 Her melancolic voice but colorful, suddenlly we feel like traveling, fantasying another unknown town. Maybe white sand beach in Thailand. My favorite Kosamet Island near from Lion (3 hours from Bankok bus station) blue sea, nice sounds of wave, sun shine.Coconut tree, then Under the tree, I sat quietly and listened Sade with my favorite book. Now I forgot what sorts books I brought with me to that island. In fact sea all over the world was more beautiful 20 years ago.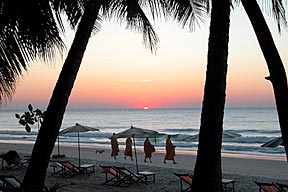 I think only beautiful sea in the world remains in the limited islands in the south pacific. and other islated places with very bad accessing. Isolated places.(once a month ship goes to that kind of island in the south pacific but small 8 persons' airplane-last passanger must close the airplane door that I have done several times before with huge responsiblity. You have to believe and trust yourself sometimes in life-a little airplane can land in the grassfield -sometimes very short landing till the edge of the cliff! WOnderful brave pilots in the south pacific are my heroes. they are fantastic fellows, but do not drink too much one day before flying!)
my mother's birthday song.
Sade (2/21) - Your Love Is King
I like to see real nice china dress worn by real pretty figured person. Next time when I go to Shanghai, I would like to order China dress near Frendship shop in Gubei area. There is the tailor that can make nice china dress for shanghai and hongkong madames In Shanghai.I like to choose decorated button from various shapes. (to chose shape is another enjoyment.)
In fact around me, many friends are born in June and July. Strange but I believe stars sign without scientific proof. Well, if you are canser(latter part of June till July), normally they love to eat " shells". Is that true?
Sade (1/21) - Cherish The Day